Under Council Review
William Cannon
wants to set a world record:
Longest Wall Sit While Placing Fingertips On Shoulders
Record Attempt:
00:00.0
min/sec
Current Record:
13:59.76
min/sec
View Record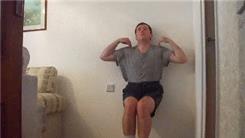 Play current record
Current Record
Record Attempt
00:00.0
min/sec
Rules
- must sit perpendicular to floor
- must follow form of current world record holder
- must provide video evidence
Set On
July 13, 2017
Location
EAGLESHAM,EAST-RENFREWSHIRE IN SCOTLAND
Info
State/Province: 0 I wanted to improve on my existing world record and push the barriers of human achievement in wall sit.
goodbye for now,
William Cannon. P.S.
DEPENDING ON TRAINING; I WAS THINKING ABOUT PUSHING FOR A 14 TO 15 HOUR WALL SIT AT MY LOCAL GYMNASIUM SOMETIME IN THE FUTURE.