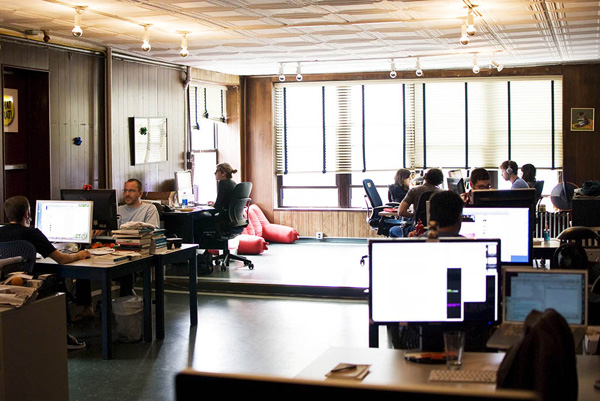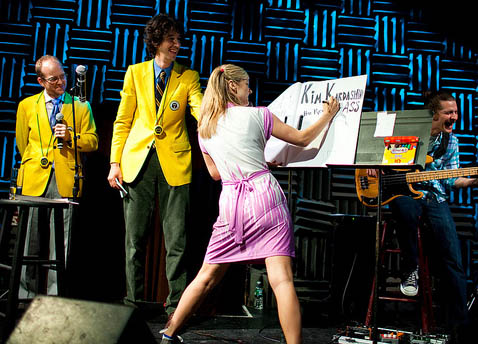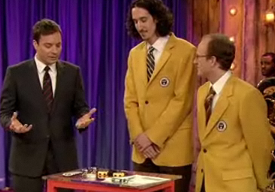 Join our Team
Who We Are
RecordSetter is an interactive media company built on a belief that everyone can be world's best at something. Our flagship property, RecordSetter.com, allows users to create world records, document them on video and upload them for others to view or challenge. The site has over 530,000 users from 113+ countries and 95,000 world record videos. The Next Web call us "this generation's Guinness World Records."
Our team of Yellow Jacket officials adjudicate world records around the globe, appearing regularly on Late Night With Jimmy Fallon, and seen on CNN, VH1, CBS Sunday Morning and The Ricki Lake Show. We've published a book, The RecordSetter Book of World Records, and brought our award-winning "RecordSetter LIVE!" variety show to New York, San Francisco, Austin, Toronto and Los Angeles.
Our headquarters are in Las Vegas, where we're part of a noted initiative called the Downtown Project. We also have an office in Los Angeles for television and original content development.
Why Join Us
Our core belief is that everyone can be a champion. That's how we're manage our company, too. From interns to developers, everyone on the RecordSetter team is encouraged bring their thoughts to the table. Fresh ideas are always welcome. Big egos are not. We're looking for the best and brightest to help us succeed.
Though we work extremely hard, fun is a big part of our spirit. Yes, there will be late nights, but there will also be parties, team adventures, guest speakers, and cold beers in the fridge. Our goal is to build a work culture respected for its balance of productivity and enjoyment.
CURRENT POSITIONS
We're looking for a full time, product-minded engineer to join our team in Downtown Las Vegas.
Here are some examples of the kinds of problems we need to work on in the near future. You'd take a lead role in figuring out how to tackle these challenges:
Implementing a next-generation video player with a variety of custom features.
Creation of a sophisticated video-submission mobile app across all platforms (see version 1.5 of our iPhone app here), either building hands-on or working with the team collaboratively.
Design and implementation of a community moderation system
Integration of editorial components across the site
Development of a interactive submission form to be used at RecordSetter LIVE! events
Our technology stack is based on .NET (along with the Razor view engine and plenty of MVC goodness) but we're primarily focused on finding talented a front-end leaning developer (HTML5, Javascript, CSS). It's helpful but not required to have .NET experience.
Candidate will work day-to-day with our CTO and (NJ-based) back-end developer, building features in a creative, dynamic, agile, iterative environment. Have a strong hand in building the next generation of our mobile app. The tech team is growing and this position will help shape the team going forward.
What are the benefits?
We take great pride in our culture, making sure employees are continually inspired and challenged. This position includes a competitive salary, company equity, an excellent benefits package, travel opportunities and more.
Sound interesting?
If what we're doing tickles your fancy, please do two things:
1. Introduce yourself
2. Send your site/blog/portfolio/linkedin to [email protected]
OR:
No phone calls, please. Position is based in Downtown Las Vegas, where the tech scene is currently exploding (see Downtown Project). If you're the right person, we'll help you move here. Bonus points if you set an awesome world record and submit it to our site. Kaboom!
Internships
RecordSetter is poised squarely at the intersection of digital media, publishing, pop culture and entertainment. We're looking for superstar interns to come join our young, energetic team and help us create a media company of the future.
"Being able to intern at RecordSetter my last semester was a fantastic opportunity. I am grateful to Dan Rollman for giving me the chance to work on the Book of World Records. I learned so many things, not just with Team Book but also got a front seat to see how the website and company was run as well. Now that I've graduated, I'm excited to find another opportunity where I get to take all the skills that I learned at Recordsetter and turn them into a job."
-Caitlin Walsh, Editorial Intern Spring 2010
Social Media Intern (Los Angeles)
Intern will assist with a variety of tasks including:
Growing engagement and managing YouTube Channel
Building relationships with YouTube celebrities
Writing copy for the newsletter and social media channels
Pitching content to media outlets
Compiling and editing stories from our community
Participating in marketing brainstorming meetings
Other tasks as assigned
Requirements:
Experience working with YouTube
Strong writing and communication skills
Writing Samples (blog articles, website copy, etc)
Detail oriented and organized
Solid understanding of Facebook, Twitter, Tumblr and other social media platforms
Proficiency in Photoshop is a plus
Strong personal social media presence is a plus
Video Intern (Las Vegas, Los Angeles)
Intern will assist with a variety of tasks including:
Shooting world record attempts
Editing and uploading world record videos
Producing original videos featuring RecordSetter content
Managing our YouTube Channel
Requirements:
Knowledge of FinalCut and basic editing knowlege
Experience shooting video
Experience working with YouTube and/or Vimeo
Work samples (videos you've shot and/or edited)
Tech Intern (Las Vegas)
Intern will assist with a variety of tasks including:
Styling webpages
Participating in product brainstorming meetings
Compiling and analyzing site metrics
Writing scripts
Assisting CTO and development team with various tech-related tasks
Requirements:
Solid experience with HTML, CSS, Photoshop, and Illustrator
Knowledge of Word, Excel, and Powerpoint
Work samples (sites or webpages you've built)
C# and Visual Studio is a plus
How to Apply
Submit your application to: jobs at recordsetter dot com. Include:
Resume
Cover letter
Link to your RecordSetter profile. Example: recordsetter.com/user/JessYin
Link to your favorite record on our site
In the body of your email include when you're available to start, when your semester ends, the hours/days you're available to work, and your phone number.
Internship Sessions
Flexible based on your school's calendar.
Winter Session: Month of January
Spring Session: January - May
Summer Session: May - August
Fall Session: September - December
General Requirements
These are unpaid internships, so applicants should be eligible to receive college credit.
Must be available to work out of our office for at least 20 hours per week.
Please create a RecordSetter profile and set a world record before applying!
Benefits/Compensation
College credit preferred
Travel stipend available to those who qualify
Opportunities to attend industry events and conferences
In-house professional development such as resume critiques and social media workshops
Semester long project and portfolio development
Direct mentorship from senior members of our team