About the Book
&nbsp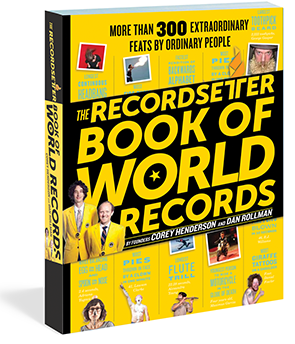 Capturing all the exuberance,
energy, and extraordinary human achievements found at RecordSetter, the new home of world records, this official RecordSetter world record book celebrates over 300 of the longest, loudest, slowest, weirdest, coolest, and most difficult-to-break records ever set. Best of all, if you get inspired, you'll get tips and wisdom on how to set a world record of your own. The book was released by Workman on November 10th, 2011.
View Photos from the RecordSetter AMERICA! Tour
&nbsp
We've been snapping shots of the awesome people we've met on tour.
Were you there? Be sure to tag yourself!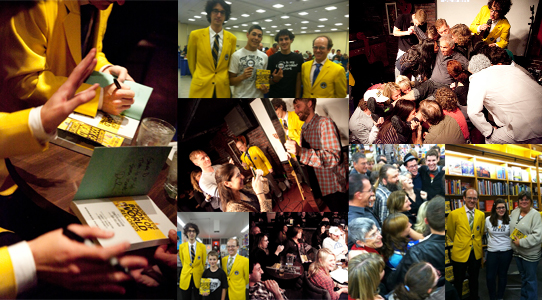 Sneak Peek Inside the Book
&nbsp
About the Authors
&nbsp
Order the Book
Most Popular Records from the Book
We asked the community to vote on 25 records from book to decide which are the best, the coolest, and most awesome. The results are in. Congrats to the featured RecordSetters!
Set by Dinesh Shivnath Upadhyaya of Goregaon (West), Mumbai, Maharashtra
Set by Dave Thompson and Matt Kelly of Brisbane, Queensland
Set by Mel Sampson of New Minas, Nova Scotia
Set by Joseph Gunderson at Pitchfork Music Festival, Illinois
Sam Stilson (The Record Collection) of Toronto, Ontario
Add the Book on Goodreads
Contact Us
Please direct all media inquiries to